Finding Rhythms at HMP Woodhill
Our music programmes pair professional musicians with prison inmates to write and produce original songs. Over the course of six sessions prisoners also complete a portfolio of work and assessment which contributes to the The Prince's Trust award in Personal Development & Employability.
The 1st of March is #WorldMusicTherapyDay which feels like an appropriate time to talk about the music programme we ran at HMP Woodhill last year. This programme was organised through a new HMPPS and NHS initiative called the Offender Personality Disorder (OPD) pathway strategy. This was designed to support individuals in prisons who have severe mental health challenges and have difficulties integrating in prisons. You can read more about the strategy here. 
At Woodhill, on behalf of the NHS the strategy is led by Dr Frances Maclennan (Consultant Clinical Psychologist, Health and Justice Services Directorate). Frances commented about the type of participants a workshops like ours held under this Pathway project would typically get: "As a result of early trauma and the complex context of prison, many men do not trust professionals or the environment that they are in. In order to cope with their early experiences and current environment, the men often have to put on a 'front' which can appear very aggressive, detached and disconnected. This 'front' is in order to survive the harsh environment." 
Finding Rhythms believe the creative freedom and access to training that our workshops offer, by pairing prisoners with professional musicians to write and create their own music, can truly improve their self-worth and well being. Through the creative process of songwriting and the performing of often very personal lyrics, our workshops offer a safe space for prisoners to explore their own past and current trauma and mental health. Covid-19 and prolonged periods of isolation also put more strain on the mental health of prisoners, who would often spend most of their days alone in the cells. At Woodhill, prisoners benefited from the safe space the workshop provided as it was outside of a formal clinical setting with a psychologist. A formal setting can often feel like a 'trap' to prisoners, or that what they talk about during a session may be used against them. Our safe space allowed them to feel comfortable enough to open up and out of this came truly emotionally deep and personal lyrics.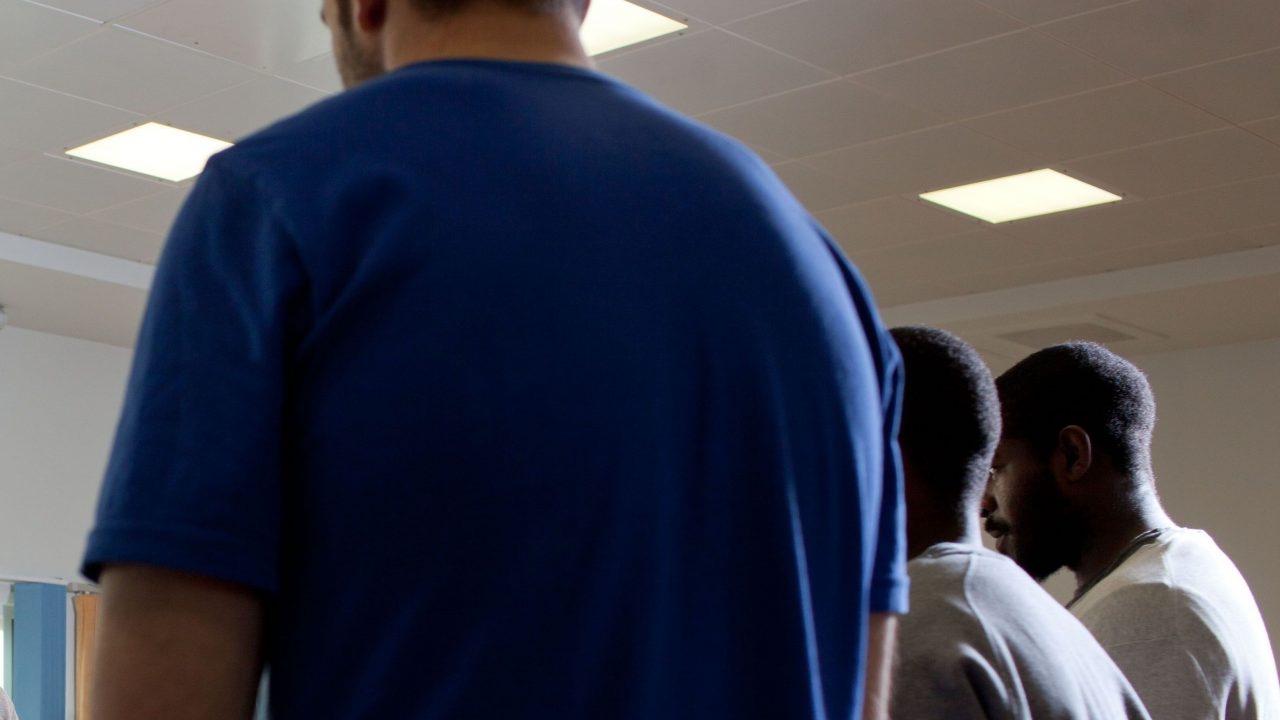 Prisoners collaborated with singer Thabo Mkwananzi and music producer and pianist Aron Kyne to create an album to be proud of "God, Music and da Forgotten" (listen here). 
"The Woodhill project is one of the most meaningful musical experiences I have had the pleasure to be a part of. The participants showed up on day one a little wary, open minded with reserved excitement. Once we got started with the music though, it became clear that this project was going to be special. From the second session onwards they showed up with concepts and lyrics they had written and rehearsed during the week between sessions. The result was a superbly well rounded tracklist that ranged in subject matter – from mental health to religion, love and prison economics – all of which was aptly entitled God, Music and da Forgotten. Over the course of the project the four main participants became friends, encouraging each other and elevating their creativity and abilities. It was just as nourishing for everyone who had the pleasure of being in the room with them, from us – the facilitators to the key workers and the guards." Thabo Mkwananzi
"God, Music and da Forgotten' was so much fun to make. The guys were very open to being challenged both musically and conceptually. As they began to realise the scope of what was possible they doubled down and dug into some very deep and meaningful topics and lyrics. For some, this was cathartic, detailing their life stories and shouting out people who meant a lot to them. This project definitely felt healing, both for the participants and myself and Thabo. I think we have all emerged from the other side more confident and a desire to dig deeper going forward." Aron Kyne
After the completion of the programme the Finding Rhythms team along with the musicians revisited Woodill for a listening session with the prisoners and the prison senior leadership team. It was an amazing experience to have the participants be able to listen back to the music they had produced in such a warm and inviting setting, alongside prison staff who were very supportive throughout our programme. Musician Thabo looked back on this moment as "the best part was the last day when we returned to celebrate the music, it was a truly wonderful afternoon that honoured the transformative journey undertaken by the participants".
The project received very positive feedback following its completion, Dr Frances Maclennan (Consultant Clinical Psychologist, Health and Justice Services Directorate) noted that "We have witnessed the men feeling proud of their music and feeling proud of their creation. We have noticed them working closely together on the wing and pushing for more work and more opportunities to come out of their cells and be together."
As part of a report into HMP Woodhill by the HM Chief Inspector of Prisons it was noted that that "music group delivered by the charity Finding Rhythms was inspirational. It fostered creativity and improved communication skills and wellbeing and those taking part said it had given them a sense of worth and joy."
We are currently halfway through a second music workshop at HMP Woodhill with musicians Aron & Thabo returning. We at Finding Rhythms can't wait to hear what the current participants come up with musically.