Finding Rhythms Works With Essex Violence & Vulnerabilities Unit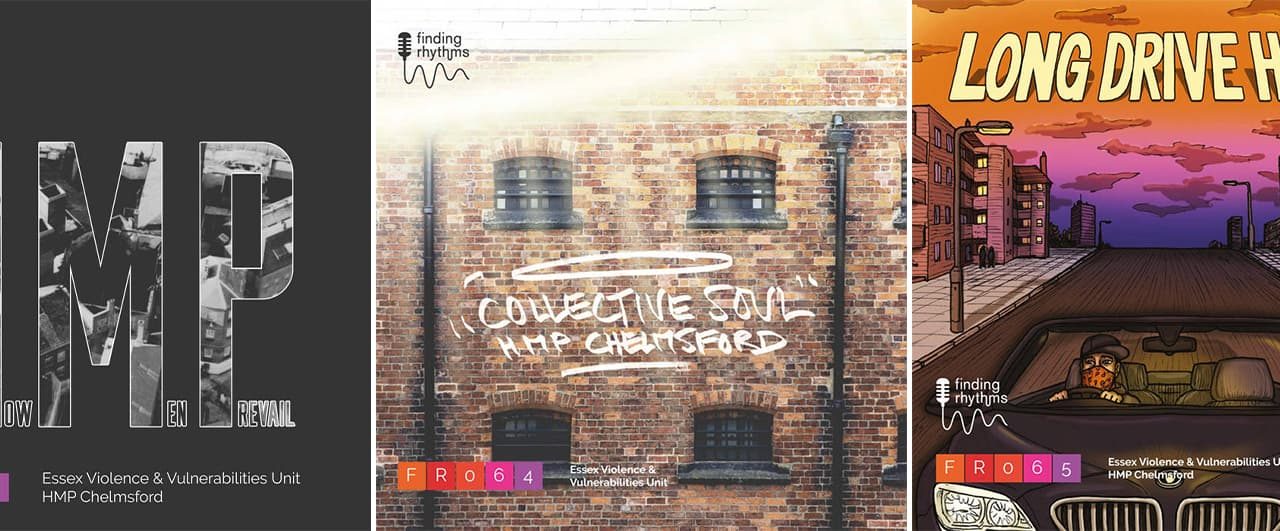 During February and March 2020, we partnered with Essex Violence and Vulnerabilities Unit – part of Essex CRC (Community Rehabilitation Company) to deliver a series of 3 projects aimed at engaging ex-gang members and those at risk of gang violence within HMP Chelmsford. The last of these projects was finished on 18 March, just days before the UK went into full lockdown. The resulting 3 albums are a testament to the talent inside the prison and the hard work of our musicians on the ground. Below Aron Kyne, who led the first of these projects gives his account of the experience
"This was a brilliant and very enjoyable project, with the exception of the daily commute! Myself, JP and Xidus arrived on our first not knowing exactly what to expect, we were greeted by a group of reflective, emotionally connected and hilarious guys.
The album we went on to make is called HMP – an acronym of 'How Men Prevail'. The word prevail came up quite early in our sessions and the guys kept on bringing it back into their lyrics. From this, a whole concept began to emerge around what it means to prevail. The guys began to write lyrics which complemented each other and from very early on kept an album wide perspective.
One of my favorite moments was when we challenged them to write around the lyrics 'If I was Prime Minister', check out the track 'Prhyme Minister' for the results. Overall this was an extremely productive and enjoyable project, I'm very proud of what we all achieved together. Give it a spin!"
The projects also enabled 14 participants to gain a BTEC in employability and greatly improved overall wellbeing and confidence. Here's some feedback from the men themselves:
"Its helped me bring back my old self a bit to be honest. bring out the positive side of me, working in a group, obviously, a bit of confidence on the mic and writing songs I never thought I'd write anything to do with a song in my life so that's quite a surprise.Moving forward obviously it teaches me to keep bit more of a calm head…..Thanks for that"
"I get quite a bit of anxiety, makes you sweat. Doing this has helped with that and I've gained so much confidence."
"Its helped with group building and confidence I think going forward you could take that into all aspects of your life. No challenge would be too big after doing this"
"I think its made me build my confidence…its made me work better with strangers. I'd never met none of these boys before. I've come out my shell a bit and got bit more confidence to go out and look for a job and be able to look back from a life of crime"
"I think the skills I've learned from this is to express feelings and be able to understand other people's opinions. I think moving forward with a job its good to express yourself to a manager or anybody you work with about how you feel, whether you're struggling with mental health or any thing stressful like that. So yeah its helped me relieve some stuff off my chest so thanks"
Listen to the three albums – How Men Prevail, Collective Soul and Long Drive Home.